Have you seen the movie release list for this year!? I'm hooked. I'm not always a big movie theater person – I generally wait till they are out on Amazon, and then I forget I wanted to see something, but dang! This year has some seriously great movies! Here's what I'm looking forward to.
Glass
Release Date: January 18th, 2019
Ok, I didn't know Unbreakable (do you remember that Bruce Willis/Samuel L. Jackson movie from 2000? I was about 13 then!) had a sequel, much less a third part, but I am all over this. I like M. Night Shymalan's work in general, Unbreakable was amazing (probably even better if you're not with someone who guesses the major twists immediately), and I definitely want to see the full trilogy.
Isn't It Romantic
Release Date: February 14th, 2019
Rebel Wilson is in this – enough said. Seriously, that alone catches my attention because the woman is always funny, but most things I've seen her in have her more as a sidekick and she is the full female lead for this movie. Supposedly, she will be playing a rom-com character who realizes she is a rom-com character and is trying to dodge the cliches. Adam Devine (he was her perfect counterpart in Pitch Perfect) and Liam Hemsworth are her love interests, and both are great actors. I think this could be hilarious!
Avengers 4
Release Date: May 3rd, 2019
They haven't released the title for this movie yet, no one knows the actual plot (including, to my understanding, most of the actors), and I'm not sure anyone actually knows the real cast list, yet let's be real, this is probably going to be the biggest movie of 2019. Anyone and everyone who saw Infinity War will be at the theater opening night for this one, including me. Is Loki really dead? Is Vision really gone? Is Chris Evans renewing his contract? Nobody knows and everyone wants to. If you don't go opening night, just get some earplugs so you can avoid the chatter the next day, because there is no way people won't be talking about it.
The Hustle
Release Date: May 10th, 2019
They've been remaking a lot of classics lately as female-led movies, from Ghostbusters to Ocean's Eleven, and this remake of Dirty Rotten Scoundrels is just the newest one. However, Rebel Wilson (you already know I love her!) and Anne Hathaway as con artists? It's gonna be good. I'll probably watch the original again first because it has been a while since I saw it, although hopefully like Jumanji, they take their own path rather than simply mimicking its predecessor.
Aladdin
Release Date: May 24th, 2019
I have not been a huge fan of Disney's live action remakes, although Beauty and the Beast had some high points, but I can't resist some of their 2019 lineup. I mean, Aladdin? It looks like they put some effort into staying culturally accurate during casting, which is a definite plus. And while Robin Williams clearly isn't around anymore (and he is greatly missed), Will Smith as the Genie? Will Smith can do no wrong, in my eyes. (Except for The Legend Of Bagger Vance. That was just terrible.) This was one of my favorite movies as a kid, so I hope they do a good job with it.
MIB
Release Date: June 14th, 2019
I love the Men In Black trilogy. Will Smith, Tommy Lee Jones, it was funny, witty, intriguing. So on the one hand, I'm not thrilled that they are remaking it. However, Tessa Thompson is a great actress, Liam Neeson and Emma Thompson don't do crap, and I'm always up for the opportunity to look at Chris Hemsworth. Plot-wise, they switch to a London branch of the MIB and follow them traveling to solve a murder. On the one hand, my low expectations make me want to wait till it's on Amazon, but on the other hand…we just know they are going to make Hemsworth take his shirt off. They always do.
Spiderman: Far From Home
Release Date: July 5th, 2019
I'm definitely a Marvel girl over DC Comics. I've been happy with Tom Holland's portrayal of Spiderman so I can't wait to see the next installment. Apparently, Peter Parker will be vacationing in Europe when all hell breaks loose. I think Marvel has done a really good job (with the exception of the Andrew Garfield Spiderman) with keeping the humor in the movies and keeping them from getting too big. Spiderman was always a little separate from other superheros and I like that they've kept that aspect even in the Avengers ensemble movies (and let's be real, Captain America: Civil War was just Avengers 2.5).
The Lion King
Release Date: July 19th, 2019
I'm actually a bit less worried about this live action remake. Since Lion King has been a hit Broadway play for how long, I feel like it will translate pretty well. Plus, Donald Glover, Seth Rogan, Alfre Woodard, and of course, James Earl Jones? They aren't going to do a movie that isn't good.
Once Upon A Time In Hollywood
Release Date: July 26th, 2019
I'm not normally much for thrillers, but a movie about the Manson family? Starring Leonardo DiCaprio? I've gotta see it! Charles Manson is one of the most well-known serial killers of all time, and will definitely up the creepy factor, plus it's directed by Quentin Tarantino, who is so talented at pulling the most quality possible out of both scripts and actors. DiCaprio and Pitt will supposedly be playing two underworked actors in Hollywood, one of whom lives next to Sharon Tate (played by Margot Robbie) shortly before she is killed. To be honest, between DiCaprio's acting skill and Tarantino's directing skill and the potentials of the plotline, this sounds like it might nab some awards next year.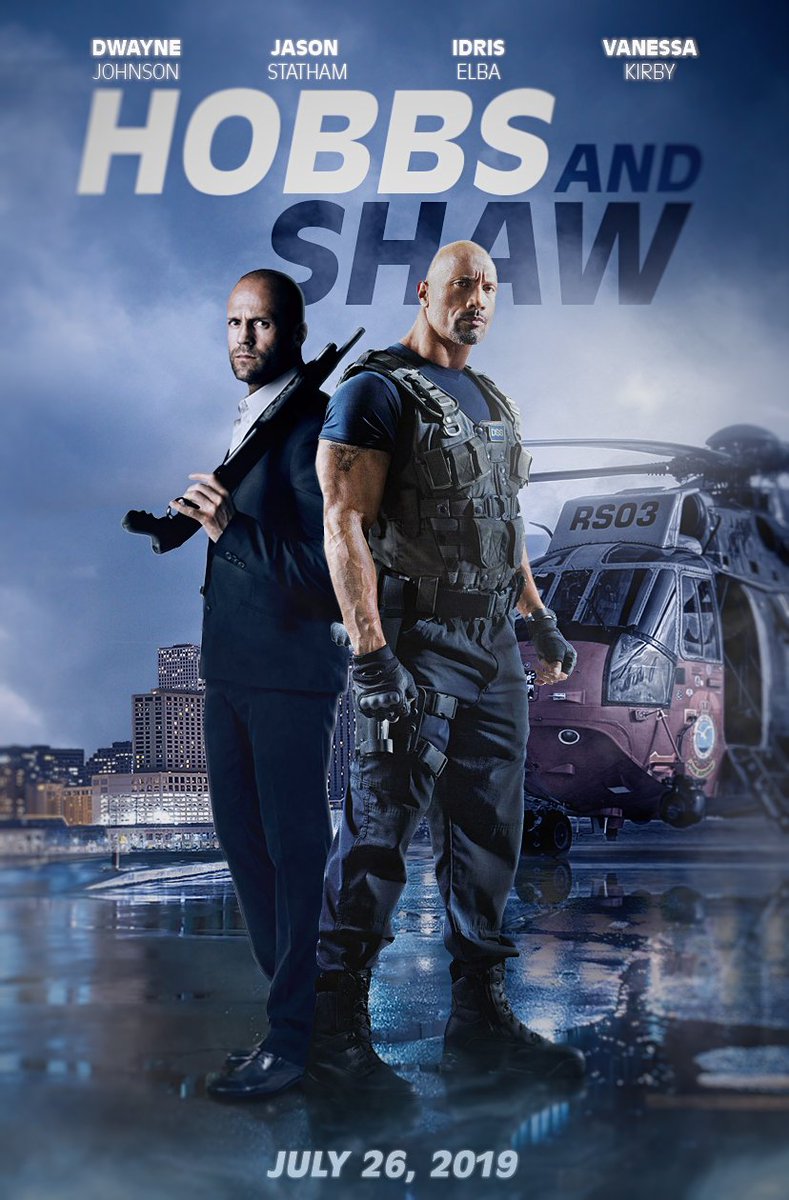 Hobbs & Shaw
Release Date: August 2nd, 2019
I love the Fast and the Furious franchise, but Hobbs & Shaw is going to center on two of my favorite characters, so that's a definite win. I will see most anything with The Rock or with Jason Statham. Literally. I watched Death Race solely because Jason Statham was in it. And I liked it. This is certainly going to be a movie to see in theaters on the big screen. Granted, I'm still a little angry that Statham's character, Shaw, is responsible for the death of Han in Tokoyo Drift, but supposedly he will be a good guy this time – although Statham never plays a good guy, he leans more towards anti-hero roles. Idris Elba will actually be playing the villian, another amazing casting choice. I don't yet know more about the actual plot, but who cares? I don't miss a Fast and the Furious movie, or a movie with Statham or the Rock.
The Kitchen
Release Date: September 20th, 2019
Melissa McCarthy is one of the funniest actors in Hollywood, so they can tout this movie as a drama all they want, I fully believe there will still be a fair amount of dry humor. I'm glad to see her branch out, and I definitely want to see her as the wife of a mobster who takes over organized crime when her husband gets arrested, because I think Melissa McCarthy should always be in control. Additionally, Elisabeth Moss is in this, in between seasons of Handmaid's Tale, and I've been watching her since she played Zoe Bartlett on West Wing (yet another role where she was flawless). I think this movie is going to be amazing.
Jungle Cruise
Release Date: October 11th, 2019
My first reaction was: a movie based on a Disney ride? Really? But then I realized that Pirates of the Caribbean was based on a Disney ride, and I hopped all the way onboard. Plus, Dwayne "The Rock" Johnson? I'm on board. The movie, set during the Great Depression, will have a trio, rounded out by Emily Blunt (awesome) and Jack Whitehall, on a mission in the jungle to find a magical tree while fighting off enemies and wild animals. Strikes me as a little Jumanji, but I'm cool with it.
Super Intelligence
Release Date: December 25th, 2019
Again, Melissa McCarthy. Right there, we already know this will be funny. She will be playing a woman who is being harassed by artificially intelligent appliances. Also starring James Corden, and Bobby Cannavale, both of whom are also funny, so I see no chance of this movie sucking.