I'm always trying to get organized and especially having just gotten rid of so much stuff, I want to start right and stay organized from the beginning.  I've been taking note when I come across things that look useful and I thought I'd share some of my list with you.
Silverware Organizer Tray
Check out this silverware organizer from Amazon.  I like that it goes vertical, because that uses space that is so often wasted.  I also like that it's well divided.  Between that and the vertical aspect, I think it will solve the issue of forks bouncing into the spoon slot and so forth.
Hanger Rack
I don't know about you but over the course of the week, I end up with empty hangers on my closet racks and then I bump them and they're on the floor and it's a mess.  A hanger rack may be the perfect solution, like this one from Amazon.   When I pull something out of the closet, I can just drop it into the rack and it's neatly held until I need the hanger again.  Plus, I use those slim velvet hangers, and love them, but they break very easily, so this keeps them tucked away safe.
Pull-Out Pan Organizer
I don't think this needs a whole lot of explanation – I'm sure we all have experience with the loud banging when you're trying to get a pot out.  But this pull-out rack is great, storing them vertically and providing an upper tier for lids.  I think it will cut down on the annoying noise and protect the pots so much better.
Glass Food Canisters (Or Oxo)
I actually want both of these sets.  The glass ones with the silver lids would be perfect for a tea or coffee station, or just to have out on the counter, and the Oxo ones stack so nicely, they would be perfect to organize the pantry.  I actually already have an Oxo container, and I love it – now I just need to buy more.  Both sets are airtight, so they will keep food fresh, and I think they look much nicer than a bunch of random boxes or bags.
Custom Closet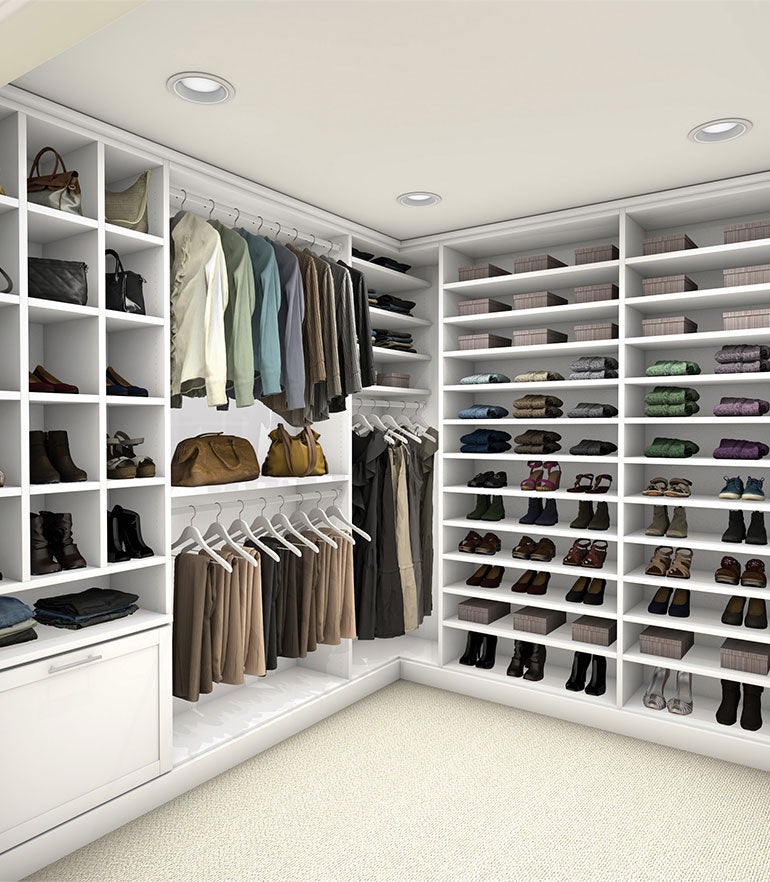 This is obviously a big expense, but one I think would be well worth it.  I dream of having a custom closet so that I can keep my clothes organized, instead of scrambling for my favorite sweater in the morning.  Plus, I can put all my pretty, pretty shoes on display.  This one is from the Container Store, and I love the crisp white minimalist style.
Organization Cart
I've actually had one similar to this before, except mine was mesh – good, but this one will be better.  I love these carts.  They're small enough (and on wheels) so you can easily move them out of the way, they hold a lot, and they're versatile.  I've seen them set up as planner supply stations, pet product stations, cooking tools, bar carts, everything.  I imagine I'm probably going to be getting several of these, so I love that they come in different colors to color code or to match the decor of the different rooms they will be in.
Do you have any organization products to recommend?  I'm always open to suggestions!